What I've Learnt From 1,000 Hours of Online Tutoring
By Dr Scott R. Dempsey on 20th December, 2021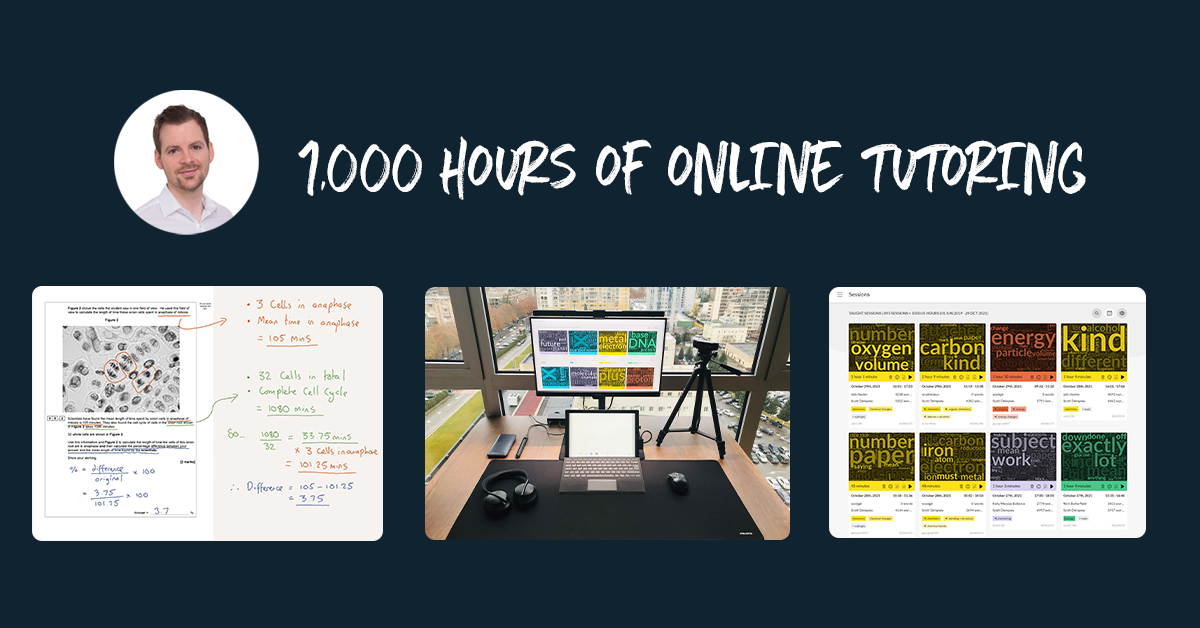 I recently surpassed 1,000 hours of online tutoring on Bramble.
How do I know this?
All my lessons are saved in a session library which gives me an automatic record of how much tutoring I've done over the past week, month, year and all time.
I've been tutoring since 2015 and prior to tutoring online I honestly could not tell you how much tutoring experience I have without manually going through my diaries - other than it's in the thousands of hours.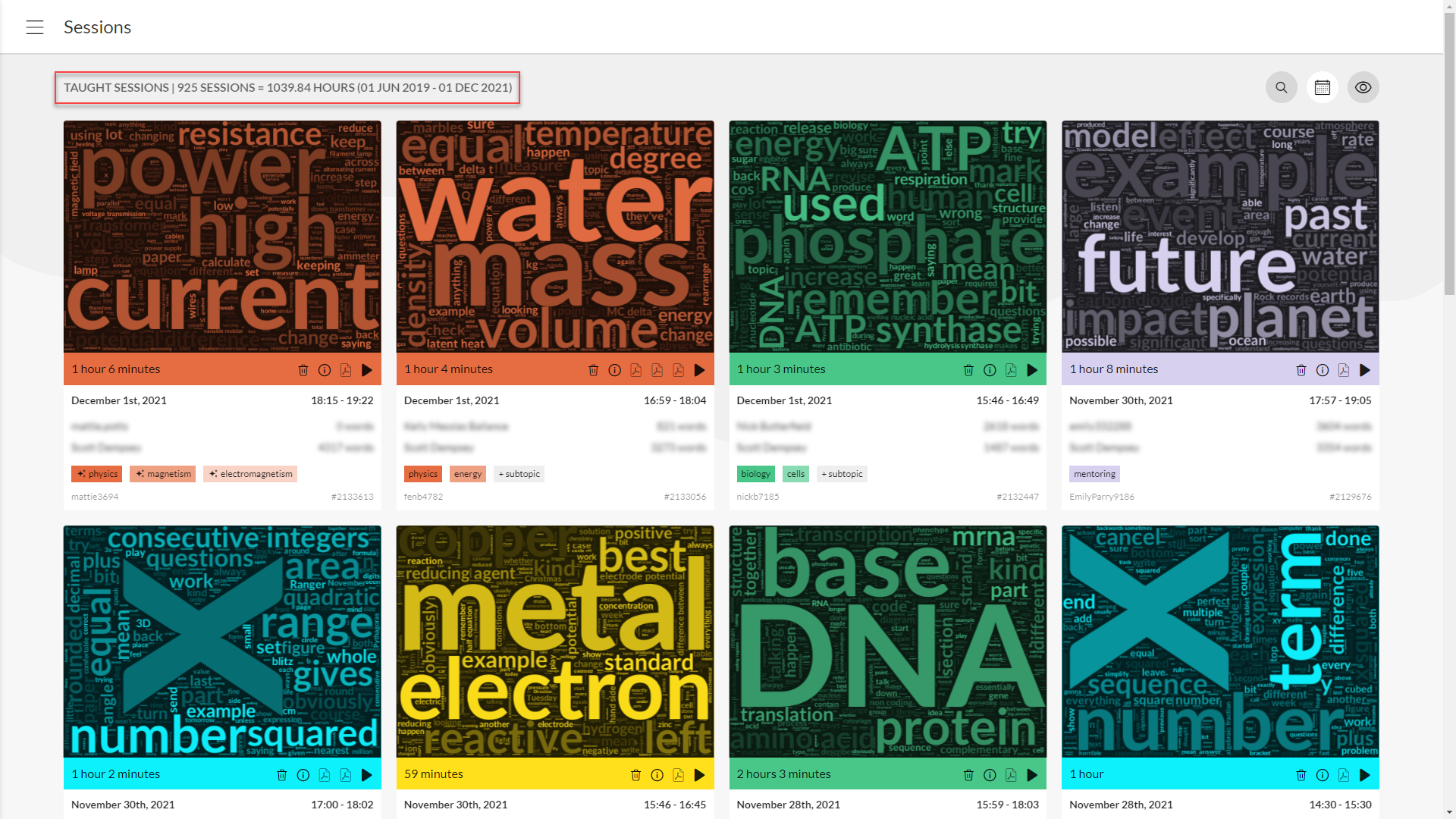 So why is this important?
Since moving online and utilising the technology available, I've been able to track so many metrics and milestones that would have been time-consuming or impossible before. I'm not just referring to achieving certain numbers, but also improving as a tutor and tracking the progress of my students.
When done correctly, everything about tutoring can be improved online.
In this article I'm going to discuss many of the things I've learnt from 1,000 hours of online tutoring and provide you with tips and examples of how I've used technology to enhance my lessons.
I'll cover the following:
Setting up to deliver great lessons
How you're set up can make a considerable difference when it comes to tutoring online.
I've done a lot of experimenting with different devices and equipment over the years and to be honest, less is often more with your set up. There have been times where my tutoring workspace looked more like a trading room, with multiple screens and unnecessary equipment that didn't really add anything to my lessons.
Whilst an effective online tutoring setup is personal to a tutor and can depend on who they tutor, the following works well for me:
One device to draw on
Preferably a touchscreen, but you can use a drawing tablet if on a tight budget.
A pen or stylus
Whichever you feel comfortable with using for drawing and writing online.
A second screen
This is optional, but I take a second screen with me everywhere, even when travelling abroad. I like the option of having the workspace open on a different screen to resources I need for the lesson.
A webcam
Webcams are built into most devices, so getting a usb connected webcam is optional. I like to be able to move my webcam around to show things other than my face very quickly and easily.
Headphones
Headphones with a built-in microphone ensure that your voice is clear and understandable. It also stops unwanted feedback from device speakers. I like to use wireless headphones with a noise cancelling option, but again this is down to personal preference and budget.
That's pretty much it.
I currently use a Windows Surface Pro 7 which works extremely well as a tutoring device and general all-round computing device. It's very portable and powerful enough to handle all of my workflow.
Here are some other recommended devices we've tested.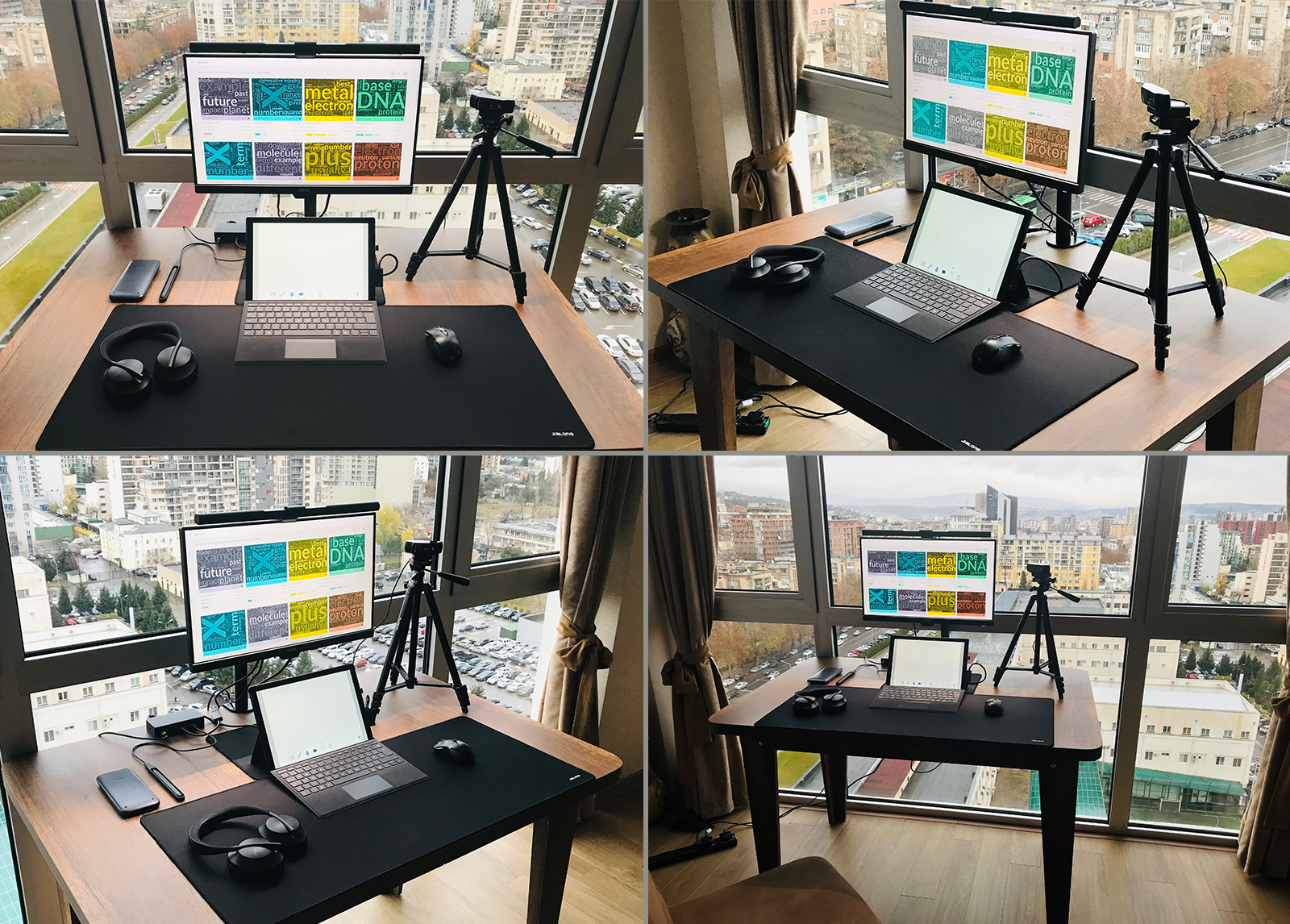 A couple of additional notes on your tutoring setup:
Ensure that your internet connection is stable

Even if your WiFi strength is generally good, if it's susceptible to drop-outs, you might want to consider an ethernet connection or powerline.

Your students' setup is as important as your setup

If you want them to engage fully in your lessons, ensure that they are comfortable writing, drawing and uploading. This will sometimes require you to speak to the parent about getting them a drawing tablet or checking if they have access to a touchscreen device such as an iPad.

Your location and flexibility requirements

Your tutoring setup will depend on whether you plan on tutoring from one place (e.g. a home office) or from multiple locations. At the time of writing, I'm currently working abroad and everything in my setup is portable enough to travel with.
Using technology to improve tutoring lessons
Being an online tutor has many of the benefits that other types of remote work do. Saving time and money on travelling, location independence, working on your own preferred hours, being lockdown proof etc. Whilst all of these are massive positives for the online tutor, I want to talk specifically about how technology improves tutoring.
Technology can enhance your tutoring when deployed well. I'm not just referring to the lessons, but also in areas such as accounting, invoicing, scheduling, feedback, revision and the degree of personalisation you can offer students.
I'll discuss accounting, feedback and revision in later sections. In this section, I'm going to outline how technology has specifically improved my tutoring lessons.
Using a shared notebook
A platform offering a shared notebook/whiteboard allows the tutor and their student/s to collaborate together in real time. This can be anything from drawing and labelling a diagram together to playing educational games and puzzles online. It's a truly immersive, two-way experience and offers a much more active form of learning for the student than watching an educator going through presentation slides.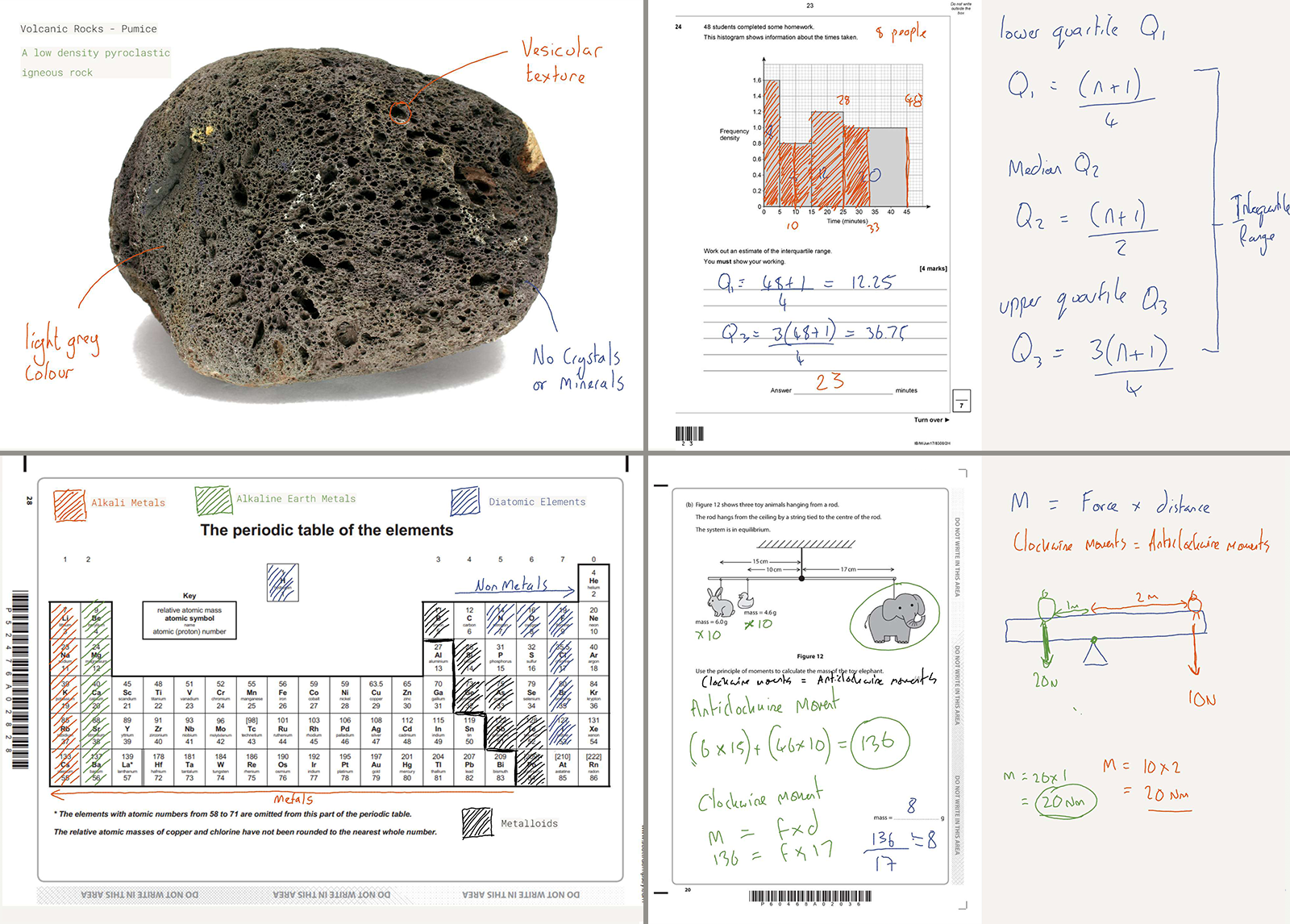 In my opinion, this is why screen sharing is not an effective way to teach online. Unless the tutor and student keep switching their screens, it's passive on one end. It's a far better method to bring resources into a shared learning space so you can work on it together.
Sharing resources
Sharing resources is something you can absolutely do during in-person tutoring. However, I always found the process a bit messy. I'd typically have a whiteboard and textbooks with me, but beyond that, I found I either needed to print out materials in advance or jump online to share links and websites.
Because all types of resources are found online, from videos and webpages to textbooks and exam papers, it's a much easier process sharing resources from an online platform that makes the process simple.
On Bramble I can quickly drag and drop images or PDFs into the lesson, share links with the click of a button and even use my webcam to import something I have in a textbook as a hard copy. The whole process is smoother, efficient and less time consuming. As a result, we typically use a wider range of resources than we otherwise would have in person.
Lesson transcription
Using a platform which incorporates lesson transcription is a game changer. This technology, whilst slightly more advanced, can provide you with rich sources of information about each of your lessons.
For example, each of my lessons is assigned a synopsis with keywords and terms relating to that lesson. In addition to this, many of my lessons are automatically assigned labels for the subject I taught and the topics and subtopics covered. This makes everything I tutor online organised and easy to find.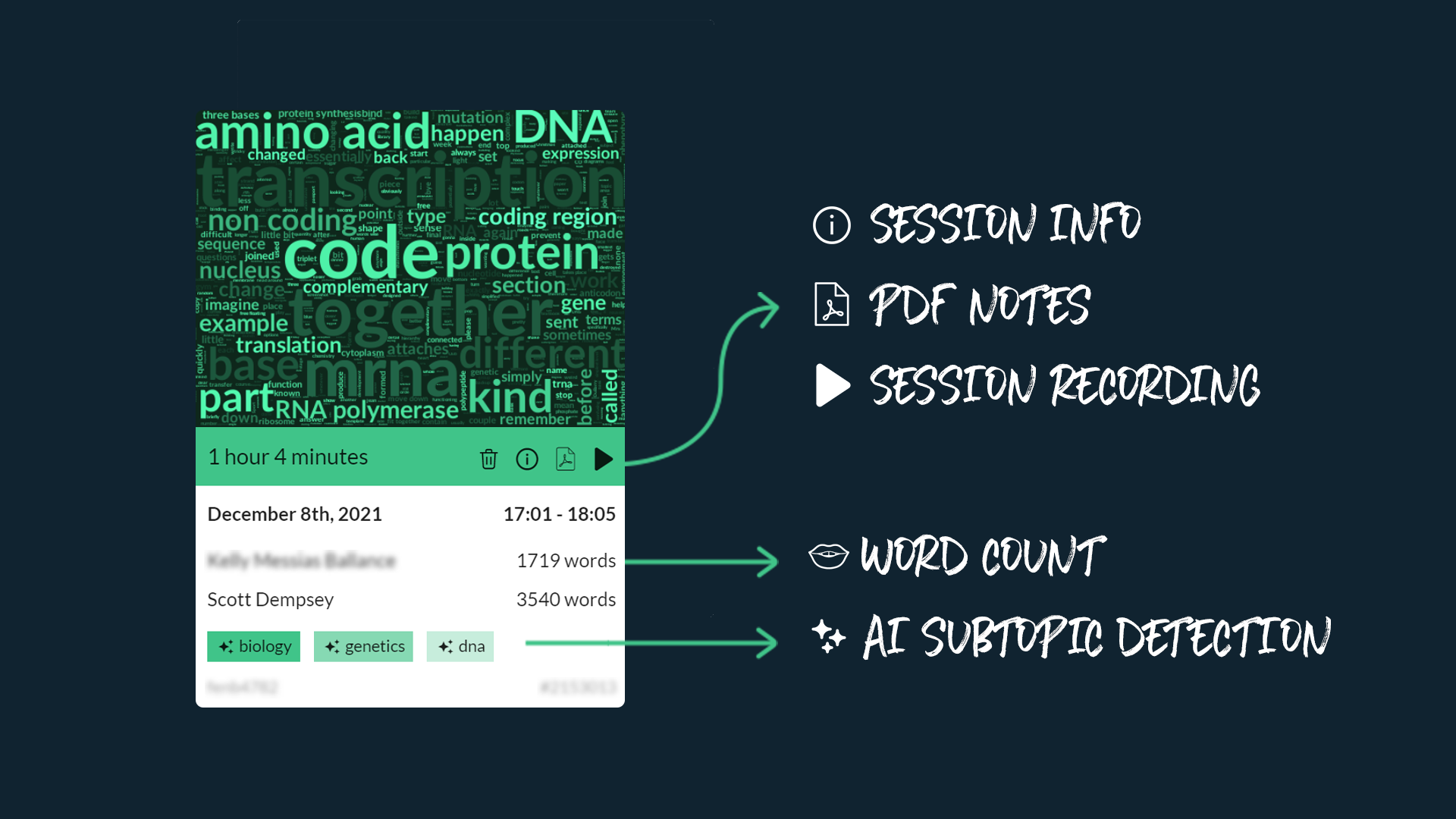 Through lesson transcription, I also receive word counts from each participant in the lesson which makes it easier to evaluate the engagement levels of my students.
All of this offers an improvement on the traditional tutoring experience, but one key piece of technology makes it all fit together perfectly...
Searchable lesson recordings
Having access to a library of searchable lesson recordings really sets online tutoring apart from traditional tutoring. Because each of my lessons is recorded and transcribed it provides me with a portfolio of my work to review and reuse whenever I need to. It also offers a layer of safeguarding that otherwise would not be there when working online.
Perhaps more importantly, it provides each of my students with a personalised library of our tutoring which they can revise from.
Students can use their lesson recordings and the downloadable PDF attachments to review everything we covered during a tutoring lesson. Using playback they can watch the lesson exactly as it happened. They can even play the lesson back at 2x speed.
Smart Search technology makes it quick and easy for the student to find the exact part of a lesson they are searching for. For example, if they wanted to find the brilliant example of covalent bonding we went through a couple of months ago, they can simply search for covalent bonding and jump into the lesson recording at the exact point we were discussing it.
Recently, I had another example of a student who was preparing for her interview at Oxford University. During the lesson we ran a mock interview to see how she would handle the questions in a live situation. Afterwards, she was able to replay the lesson to evaluate how she felt she answered the questions and what she could improve.
There are so many great uses for this technology offering myriad benefits to tutors and students. It's all cloud-based so it can be accessed from any device at any time without having to worry about downloading and storing anything.
Lesson continuity
Searchable lesson recordings are a major component of maintaining continuity between all of your online tutoring with your students. Having everything in one place means that you are not delivering lessons in silos with nothing in between.
There are other factors that also add to continuity between my online lessons.
Personalised room links
All of my students have their own unique room link. This is the link we use for all of our lessons. I'll often suggest that my students choose their own link name, so it feels more personal to them.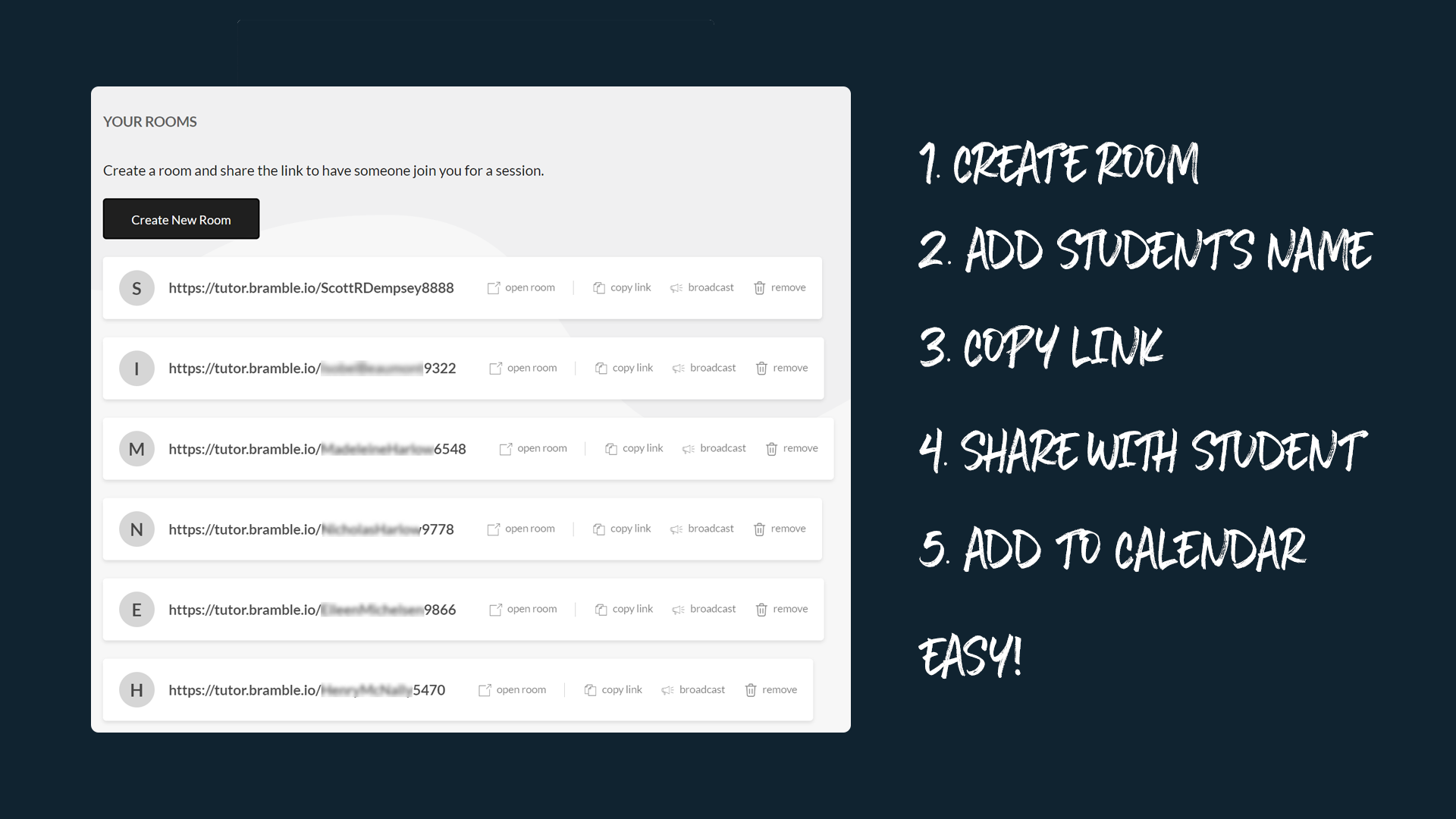 Back when I used video conferencing software for my online tutoring lessons, I would need to send through a different link to my students each week. This created more work for me and could cause confusion if I forgot to send it through on time. The link was often long and filled with random characters which made it easy to forget if the email was lost.
Export Options
Having the ability to choose when I export a notebook provides me with so much flexibility when it comes to lesson continuity. I can choose to:
Prepare notebooks in advance
Reimport a previous notebook to use again or continue from
Set the student homework on the platform (between lessons)
Export content halfway through a lesson if we are switching subjects
Share content with my students between lessons
The option to export provides a bridge between lessons and is a very useful tool when combined with personalised room links.
To learn more about how exporting works, how you can prepare sessions in advance and reuse notebooks click here.
Choosing effective tools and resources
If you are currently using a platform which is not designed specifically for tutoring or teaching, it's unlikely that you will have access to the type of technology and options that I've described above. I see a lot of tutors who opt for video conferencing platforms because they are familiar with them without considering if there are better alternatives for online tutoring.
The platform aside, there are other tools and resources that I use to make online tutoring more effective.
A digital library of textbooks
I like to own hard copies of books. However, when thinking about online tutoring, specifically if you are not going to be in one place, having a digital library of textbooks makes a lot of sense.
Using digital textbooks it's easy to take screenshots of sections I need before or during lessons and get them quickly uploaded. They also allow you to zoom in and out of specific sections which makes capturing particular diagrams or parts of a page much easier than it would otherwise be with a physical copy.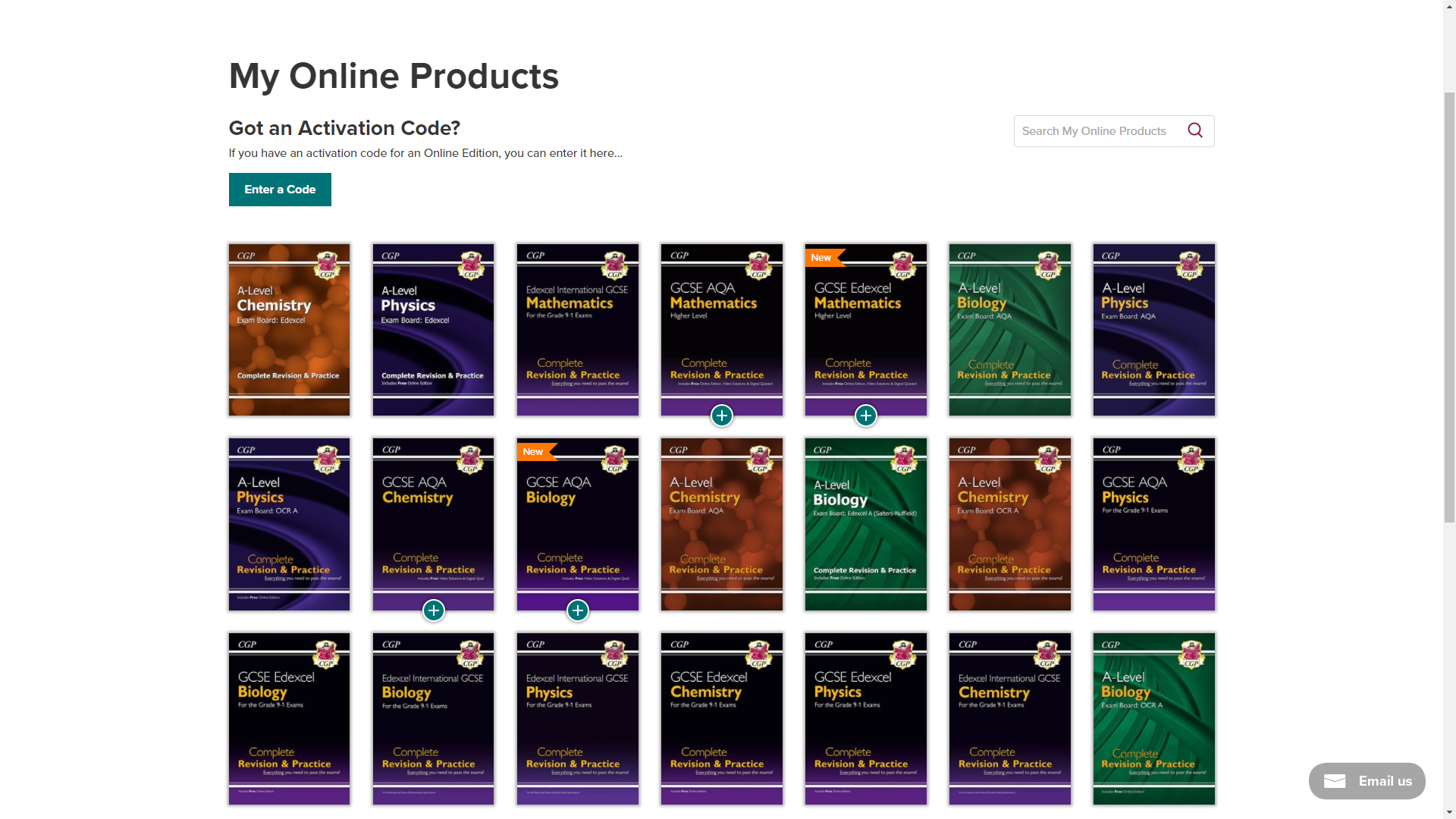 Examination papers
There are a number of websites who provide examination questions as PDFs that you can quickly import into a lesson. The main exam boards I use are AQA, Edexcel and OCR, but these might be different for you depending on where you are based and what country you're from.
I also have personal folders with exam questions and questions by topic in them to make it easier for me to access at short notice during a lesson. I will share these with my students so they have access to everything they need and avoid the confusion of searching for the right exam board and specification online.
Other educational resources
Aside from digital textbooks and examination papers, you can also find other educational resources on websites such as Teachers Pay Teachers, Twinkl, Physics and Maths Tutor and specialist websites, such as Dr Frost Maths to name a few. In most cases, you'll have to pay for the resources you want, but they are often worth the investment.
Of course if you have time you can always create your own resources from scratch!
Screenshotting
In terms of tools, I would strongly recommend you have an easy method for screenshotting and capturing digital images and webpages. You can find out how to do that for free here.
There are many other tools and resources available that you could use. However, I would urge caution on adding in too many variables as it often leads to less efficiency and effectiveness rather than more. Keep it as simple as you can is my advice.
More generally, you'll need a system for attracting new clients on a consistent basis, a method for collecting reviews from your clients and other considerations related to marketing and sales
That is another blog post in it's own right and I'm not going to go to cover those here. However, we will take a look at accounting and how you can actually use your tutoring platform to assist with your bookkeeping.
Tracking hours and accounting
Tracking your hours, getting paid for your work and bookkeeping is an important part of operating a successful tutoring business.
Over the past 7 years of tutoring I've been able to make this process much easier and more efficient than when I started, thanks to technology and the platform I use.
When I started all of my bookkeeping was done manually - my hours were logged in a diary and expenses on a spreadsheet. I had to manually calculate my mileage and payments were often done through different agencies. I also saved every receipt and stapled them together in a folder for the accountant. Everything was disjointed, it was time-consuming and made tax returns a bit of a nightmare. In addition, I was never really sure how much net income I was making from month-to-month.
Now I use 3 tools. A Google Calendar, Quickbooks and Bramble.
As I mentioned at the beginning of this article, I'm able to track all of my hours in Bramble through my sessions page. This means I know exactly how many hours I've tutored over the past week, month and year. There are a few ways I use this to keep track of my hours and incorporate it into my accounting.
Keeping track of the number of sessions delivered in any 30 day period
I keep a check on the number of sessions I've delivered in the last 30 days because it provides a very quick estimate of my income over that period. For example, if I've delivered 50 sessions and my rate is £50 p/h I know that I've earned £2,500 in the last 30 days. Usefully, this is the first number you will see when entering your sessions page. You can quickly and easily do this for any time range.
Searching by student to check hours before invoicing
Prior to sending an invoice, I'll also use the sessions page to search the lessons I've had with a particular student. In most cases, I'll invoice clients on the 1st of every month for the tutoring sessions they've had the previous month. It will quickly show me how many sessions I've had with that particular student and the date and times of our lessons.
This makes it very easy to produce an invoice (I use Quickbooks for this where everything is pre-saved - it literally takes minutes per month to do).
Sending the sessions page to my clients as part of their invoice
As a nice touch, I'll often take a screenshot of the sessions page for that student's lessons that month and attach it to the invoice. You can also add a link to their sessions page, so they can review what you've done that month. The parent can also see what progress you've made and where their investment is going.
Nowadays I use my calendar less for checking hours and invoicing and more for planning and logistics. So I know when I have free slots available and when I don't. I also add the room links to my calendar as it sends me a reminder prior to the session with the link.
The great thing about online tutoring is that your overheads are typically very low, so your net income can be quite high. Because my accounting software is linked with my accountant, tax returns are no longer something I dread (until I have to pay them!).
Tracking student progress
We've discussed tracking your hours and income. Now let's discuss what you're actually being paid for; measurable progress for your students.
Students will often be assessed in school at certain times of the year, like during mock exams and sometimes after the completion of a particular topic. However, as a tutor who works with them on a weekly basis you want to be assessing student progress more regularly.
Tracking student progress on a regular basis means that you can quickly identify gaps in their knowledge and address them. It will also improve their confidence if they see evidence that they are improving from week to week.
One way I do this is to incorporate exams throughout the year. Often students will not feel confident doing entire exam papers until they have completed the entire specification. Nevertheless, you can easily mitigate this by selecting exam questions by topic.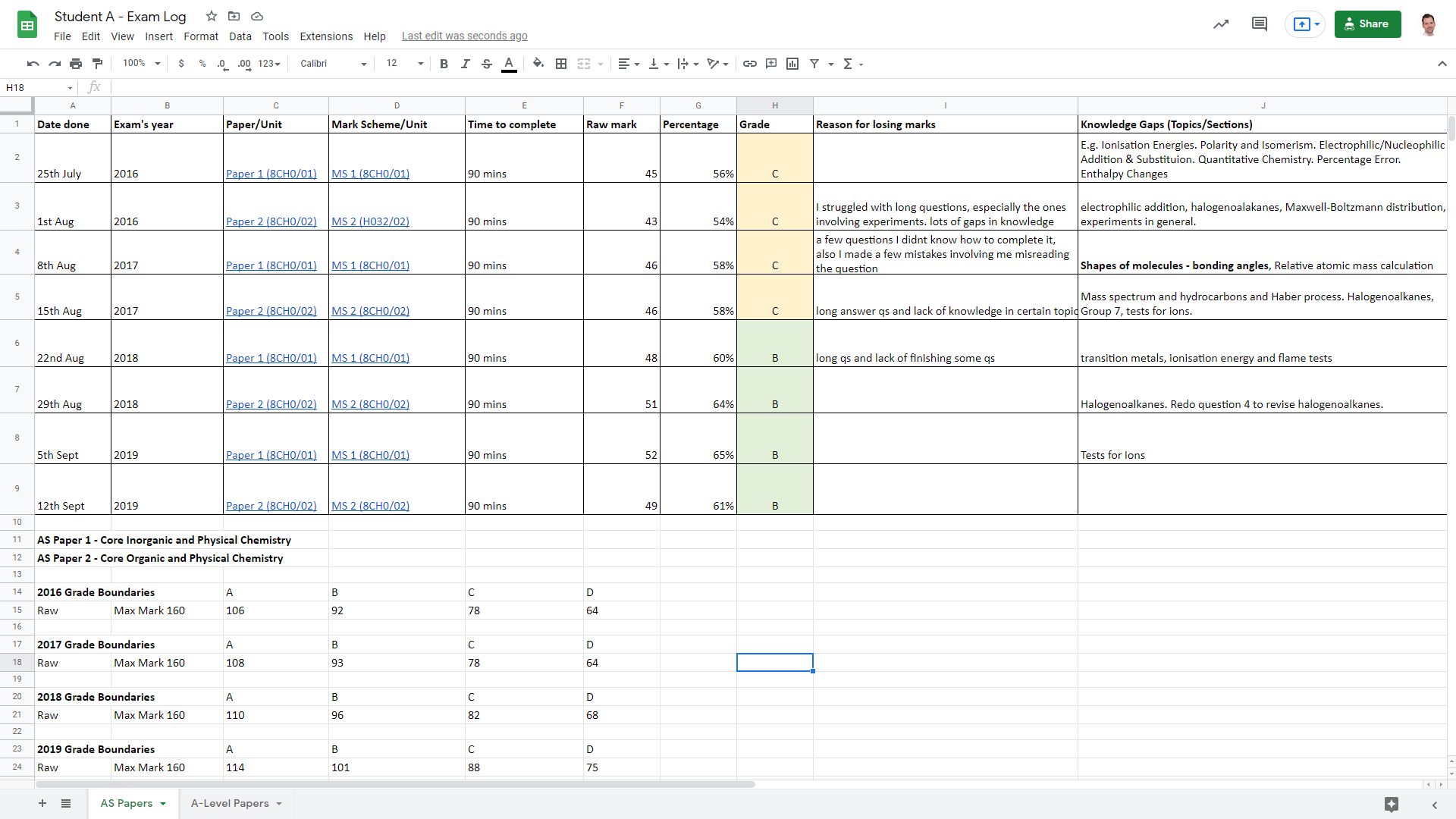 By doing this, the student was able to see his grades improve and quickly identify their knowledge gaps from year 12.
I can also track progress on a session-by-session basis in Bramble.
The CUE Ratings system in Bramble looks at 3 key metrics:
Engagement -

how engaged was the student in the lesson

Understanding -

how well did the student understand the content covered in the lesson

Confidence -

how was the student's overall confidence in the topics covered in the lesson
You can also add any assessments that you covered during the session and any additional comments.
Combining these approaches to tracking and measuring your student's progress will make a significant difference over time and enable you to get a deeper understanding of your student's knowledge gaps so that you can address them quickly.
Becoming a better tutor
There are two ways of looking at progress as a tutor.
The first is hours and income. The second is getting better results for your students.
Both of these metrics are somewhat dependent on the other.
For example, the more hours you tutor, the more experienced you become and the more you learn what works and what doesn't. You also have more time to collect reviews and find your niche. With time the cost of your service should naturally increase as the quality of your service increases and demand for your service increases.
However, it doesn't always work that way.
I see a lot of tutors who have developed a lot of experience but have not made much progress in either metric for some time. The answer to this comes from deliberate practice.
Deliberate practice is necessary for us to keep progressing beyond plateaus and keep improving once we've reached a certain level of competence. As we learn a new skill, the rate of learning and improving is very fast at first but often tends to tail off when you reach a certain level.
Think getting stronger or fitter in the gym or getting better at reading.
I've found two ways to keep improving that work well for me:
Review my tutoring in detail
Develop other complementary skills
Reviewing your tutoring
A key component of deliberate practice is to receive immediate feedback on your performance. Many athletes and musicians use coaches for this purpose, but it's much more difficult to get a coach as an online tutor as they would have to be in the lesson with you. Also, a tutoring coach might be difficult to find.
However, by using technology we can now quickly and easily review our tutoring. All of my lessons are automatically recorded and stored in a cloud-based library for me to playback at my convenience. This provides a very simple and effective method for me to review my tutoring.
The things I look for when reviewing a lesson are:
Did I ask enough questions and engage the student enough?
Did I allow the student to pause and reflect on a question or concept before jumping in?
Did I present new content clearly and break it down into manageable chunks?
Did I use appropriate metaphors and analogies when the student was struggling with a concept?
Did I use appropriate resources?
Did I connect with the student?
Did I use a variety of resources?
Did I personalise the lesson to the student's needs, goals and abilities?
Did I push the student out of their comfort zone?
Did I move the student slightly closer to their goals?
By using session playback I can also play the lesson back at different speeds and skip to certain parts of the lesson very quickly, which makes it a very useful tool for reviewing my lessons.
Developing valuable complementary skills
There are a few skills that you can learn which complement tutoring really well.
For example, I've developed my coaching skills and areas of psychology which help to improve performance. Students often need coaching as much as they need teaching content and having a good knowledge of both will yield better results. In addition to this, some students might have particular learning differences such as dyslexia or ADHD which need understanding and managing.
In addition to coaching, I've trained to use psychometric assessments for both personality and ability.
Understanding a student's personality preferences will help you to personalise your lessons to meet the needs of your students.
For example, if you know that one of your students is particularly introverted you might take a different approach than you would to a more extraverted student. The introvert might, for example, need more time to reflect on a question and need more encouragement speaking out if they don't understand something.
Conscientiousness can also vary considerably in students. A more conscientious student might need less help organising their work than a less conscientious student and may spot details more readily.
To summarise, if you combine deliberate practice with improving your complementary skills you will almost certainly become a better tutor which will increase your value in the marketplace.
Insights from 1,000 hours of online tutoring
In this section we'll look at what technology can tell us about my online tutoring lessons.
Insights can be a very useful way of helping tutors see trends and spot patterns in their tutoring. They can also help us to improve and understand where the demand is.
From a database of 1,018 sessions with students my session breakdown by percentage is as follows:
Chemistry (42%)
Maths (25%)
Physics (19%)
Biology (12%)
Mentoring (2%)
I typically offer tutoring services for the science subjects at GCSE and A Level and maths at GCSE, so it was interesting to see that 25% of my online tutoring comes from maths lessons. Chemistry is the subject I tutor most frequently at A Level so this accounts for the higher percentage of chemistry lessons.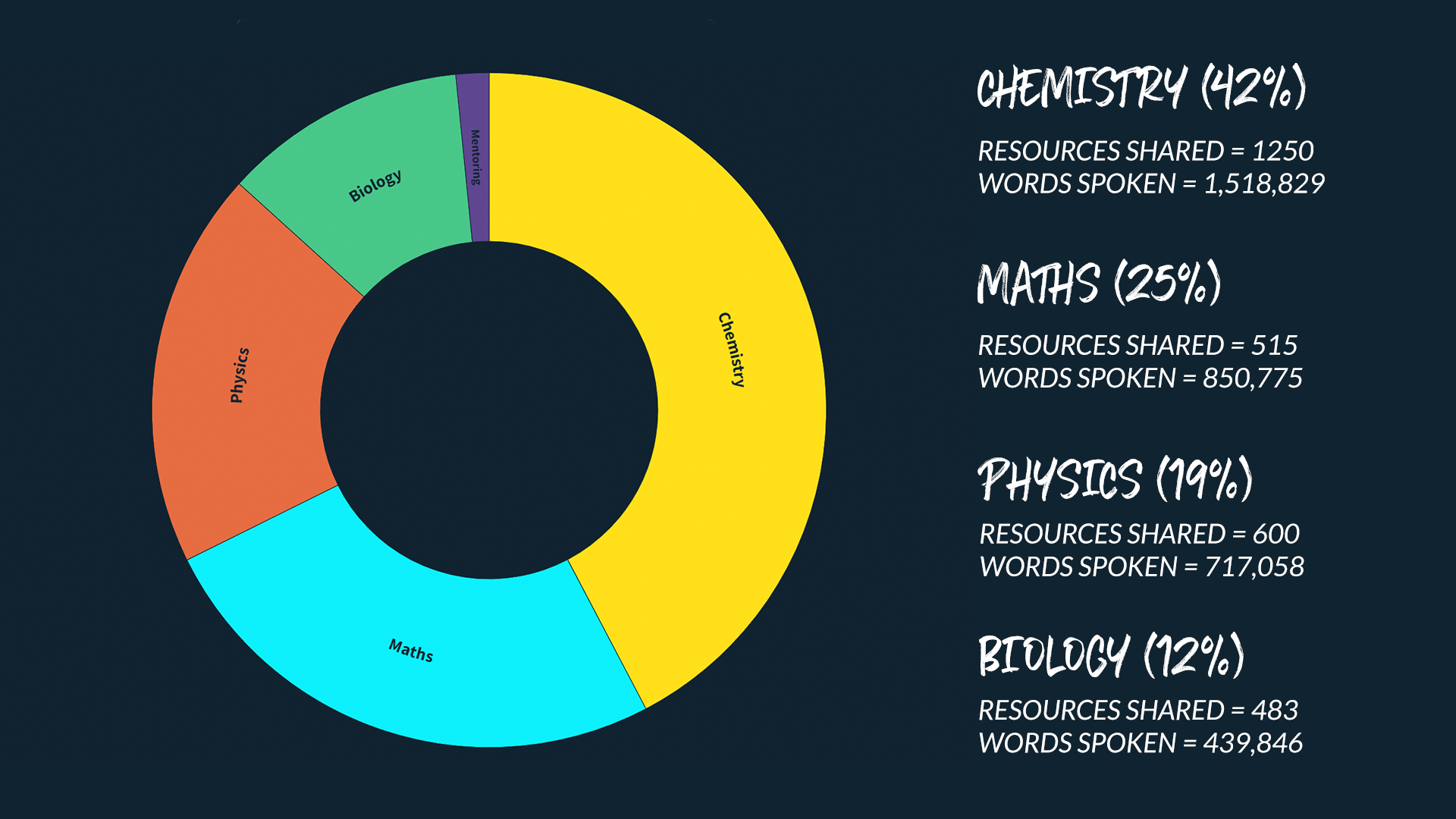 Accounting for the number of sessions tutored for each subject, the science subjects include more resource uploads than maths. This makes sense because maths lessons usually involve mostly questions, while the science lessons typically include a combination of questions, diagrams and examples from online textbooks.
We can also drill down a little further to look at popular topics and subtopics I've tutored.
This only includes those which have been labelled, either automatically through Bramble's AI, or manually by me after a session. It's important to note that not all of my lessons include topic and subtopic labels because I'll often upload exam papers which include multiple topics and subtopics per session.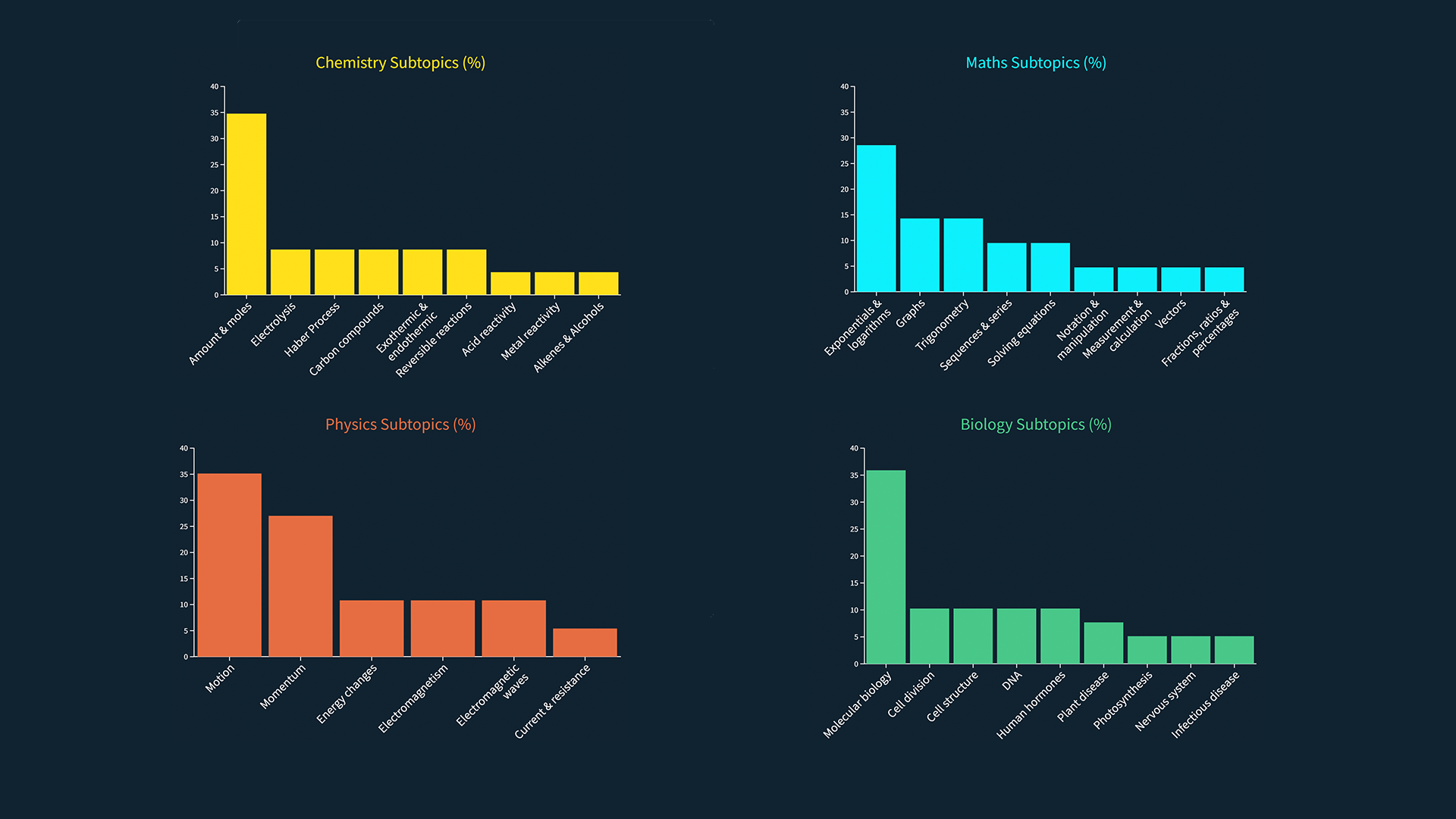 As you can see on the figure above, the following subtopics within a subject are particularly popular:
Chemistry (top 5 labelled subtopics)
Amount & moles (35%)
Electrolysis (9%)
Haber Process (9%)
Carbon compounds (9%)
Exothermic & endothermic reactions (9%)
Maths (top 5 labelled subtopics)
Exponentials & logarithms (29%)
Graphs (14%)
Trigonometry (14%)
Sequences & series (10%)
Solving equations (10%)
Physics (top 5 labelled subtopics)
Motion (35%)
Momentum (27%)
Energy changes (11%)
Electromagnetism (11%)
Electromagnetic waves (11%)
Biology (top 5 labelled subtopics)
Molecular biology (36%)
Cell division (10%)
Cell structure (10%)
DNA (10%)
Human hormones (10%)
This data provides me with an excellent insight and understanding into what topics students are struggling with and enables me to prepare by building a great set of resources for these areas. This is particularly important when you tutor multiple subjects and need to prioritise which resources are going to be used most often.
I'm particularly excited to see how future technology and AI can further augment my tutoring with data that will ultimately help me become a better tutor.
Summary
I started this article by suggesting that technology can significantly improve online tutoring and learning when utilised in the correct way. Hopefully, by sharing some of the ways I use technology it can inspire you to think about how your tutoring could benefit in a similar way.
On to the next 1,000 hours!...
---